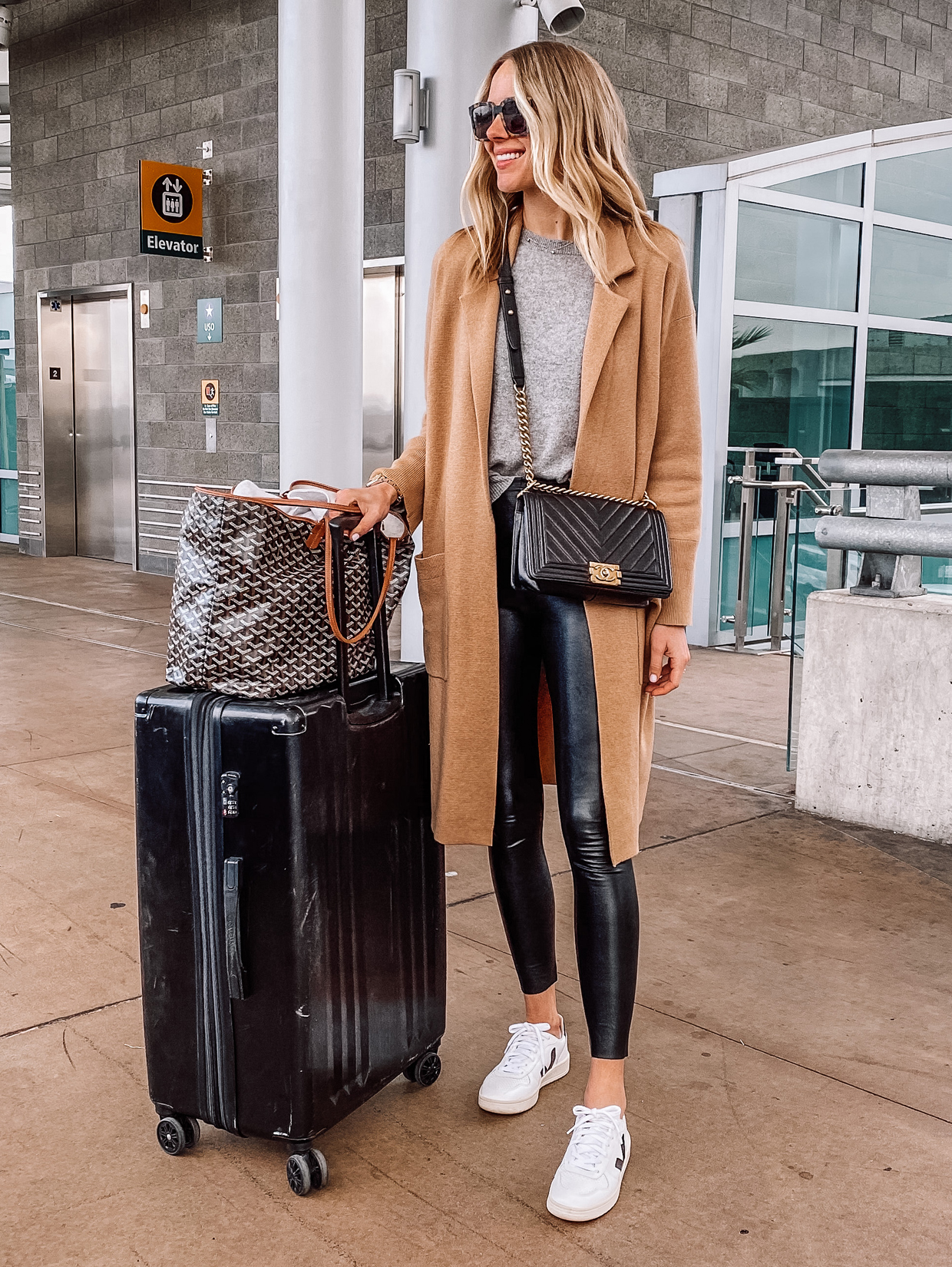 Source fashionjackson.com
🌞 Best Travel Outfits for Women 🚩
Traveling doesn't mean sacrificing fashion and comfort, especially for women. We've compiled the best travel outfits that combine both qualities, ensuring that you look and feel good on your next adventure.
👖 Bottoms
Traveling doesn't have to mean enduring constricting jeans or baggy sweatpants. Try leggings and jeggings, which are stretchy and comfortable. High-waisted jeans with a little stretch and airy trousers are also good options.
👕 Tops
Choose tops that are breathable and can be layered. Cotton tees or basic tanks are good options. Light cardigans, button-down shirts, and comfortable blouses are also versatile pieces that can be worn in multiple settings.
🧥 Outerwear
Depending on your destination, you may need a warm coat or a lightweight jacket. A leather or denim jacket adds style to your outfit and can be worn on the plane or during excursions.
👟 Shoes
Choose shoes that are comfortable and versatile. Sneakers, flats, and ankle boots go well with leggings, jeans, or dresses. If you're heading to the beach, pack a pair of flip flops or sandals.
👜 Accessories
Accessories can elevate basic outfits. A scarf can be worn as a wrap or a headgear. A statement necklace or earrings can complement a plain outfit. And don't forget a roomy tote or backpack to store your travel essentials.
👗 Dresses
Dresses are perfect for travelers who want to pack light. A maxi dress is comfortable, stylish, and can be dressed up or down. A shirt dress or a midi length dress is also versatile.
🌴 Best Travel Outfits for Men 🌊
Guys, here are the best outfits for your next adventure without compromising style or comfort.
👖 Bottoms
Jeans, especially ones with a little stretch, are comfortable for long trips. Khaki or chino pants are also good choices. Some travelers prefer cargo pants for their multiple pockets.
👕 Tops
Basic tees and Henley shirts can be paired with any bottoms. A plaid shirt adds a pop of color to neutral pants. A lightweight pullover is also versatile and can be worn alone or layered with a jacket.
🧥 Outerwear
A denim jacket or a utility jacket is stylish and functional. A lightweight parka or a trench coat is essential for rainy destinations.
👟 Shoes
Sneakers, loafers or boat shoes are comfortable and stylish. For hiking or outdoor activities, opt for sturdy sneakers or hiking boots. Don't forget socks that can wick sweat and prevent blisters.
🎩 Accessories
A watch adds style and utility to your travel outfit. A baseball cap or a bucket hat protects your face from harmful UV rays. A messenger bag or a backpack can store your essentials without being bulky.
👔 Formal Travel Outfits
If you're attending a formal event or business meeting, don't sacrifice style and comfort. A navy blue suit is always a classic choice, paired with a crisp white shirt and a patterned tie. A black blazer matched with khaki pants or jeans is more casual yet still elegant.
🌍 Pros and Cons of Travel Outfits 🌎
Strengths:
Travel outfits combine both comfort and style, which are essential for travelers who want to enjoy their trip without feeling restricted or self-conscious. They allow travelers to pack light and avoid the hassle of checking in bags. They can be worn in multiple settings, from exploring the city to dining in a fancy restaurant. And with the rise of sustainable fashion, travel outfits made from eco-friendly materials are becoming more popular.
Weaknesses:
Some travelers find travel outfits limiting and monotonous, especially if they have to wear them for multiple days. Some travel outfits may not be appropriate for cultural or religious destinations. And sometimes, travelers encounter unpredictable weather or unexpected events that require a change of outfit.
🛍️ Travel Outfit Checklist: Packing in Style 🧳
| Women | Men |
| --- | --- |
| Leggings or jeggings | Jeans or Khaki Pants |
| Cotton tees or tanks | Basic tees or Henley shirts |
| Light cardigan or blouse | Lightweight pullover or plaid shirt |
| Leather or denim jacket | Denim or utility jacket |
| Sneakers or flats | Sneakers or loafers |
| Tote or backpack | Messenger bag or backpack |
| Maxi dress or shirt dress | Black blazer or navy blue suit |
🤔 Frequently Asked Questions 🙋‍♀️
1. Can I wear shorts on a plane?
It depends on the airline and the destination. Some airlines prohibit shorts, especially on international flights or first-class cabins. Some destinations also have modesty rules or cultural norms that discourage wearing shorts in public places.
2. Should I wear jewelry when traveling?
It depends on your destination and itinerary. Wearing ostentatious jewelry can attract unwanted attention from thieves or scammers. Also, if you're visiting a religious site or a conservative community, wearing minimalist or no jewelry is more respectful.
3. Can I wear sneakers with a dress?
Yes, sneakers can be worn with a dress, especially a casual or sporty one. However, make sure that the colors and styles match and that the dress length is appropriate for your height and body type.
4. Should I pack a raincoat or a poncho?
Both are suitable for outdoor activities or rainy destinations, depending on your preference and style. Raincoats are more elegant and can be worn with other outfits, while ponchos are more practical and can cover your bags and other belongings.
5. How many pairs of shoes should I pack for a two-week trip?
It depends on your itinerary and activities. If you're doing a lot of walking or hiking, pack two or three pairs of comfortable shoes. If you're attending formal events or dining in fancy restaurants, pack at least one pair of dress shoes.
6. Can I wear leggings as pants?
It depends on the thickness and opacity of the leggings. If the leggings are made of thick material and are not see-through, they can be worn as pants. However, make sure that the top covers your bottom and that the leggings are not too revealing.
7. Should I pack a hat on my trip?
It depends on the weather and your destination. If you're going to a sunny place, packing a hat can protect your face from harmful UV rays. If you're going to a cold place, packing a beanie or a wool hat can keep your head and ears warm. Make sure that the hat is not too bulky and that it matches your outfit.
🛎️ Encouraging Readers to Take Action 📣
Traveling should be a fun and memorable experience, and having the right travel outfits can make a big difference. Don't settle for uncomfortable or unstylish clothes that can ruin your mood or cause unnecessary stress. Invest in a few pieces that match your personality and needs and that can be worn multiple times and in different settings. And don't forget to follow the destination's dress code or cultural norms to show respect and appreciation.
Thank you, Sobat Hitunggaji, for reading this article. We hope that you have learned valuable information about travel outfits and that you're now inspired to pack in style. Remember to share this article with your friends and family who love to travel. Safe travels!
💬 Disclaimer 📝
This article is for informational purposes only and is not intended as professional advice. The author and publisher assume no responsibility or liability for any errors or omissions in the content of this article. The reader is solely responsible for any actions taken based on the information provided in this article.
If you're planning a business trip, check out American Express Business Travel for tips and tools to make your travel experience smoother and more efficient.